I was suppose to go with some friends to get mittens this morning but had two minor problems. My alarm (my ipod) got turned on p.m. instead of a.m. and then when I did wake up it was on eastern time so I thought I had missed the meeting time but really I hadn't :( So I went back to bed so I guess that was good too.
We had a late call time today because they delayed the start time by 2.5 hours because the weather was too sunny for the ice. This last event is really hard on the ice so it definitely matters if it's sunny or not.
It was just one event tonight and then training so it was short, which was nice. I got to go home before the training was done so that was even nicer.
It's getting hard to motivate myself because I'm just plain tired but I've had a lot of encouragement from our devotions (the professors made a little devotion book for us) and from the many e-mails and comments I've gotten from you guys (thanks). So today I really didn't want to work but it actually was a really good day. I was at the start house the whole time and although it was busy it was manageable. The surprise of the day was actually that overnight they had moved our camera positions (that we spent a lot of time measuring and marking out) by moving the barricades 2 feet from the end of the tent (to fit in all the team's equipment). The barricades were at least 4 or 5 feet from the end of tent yesterday so that was a bit stressful to figure out how to fit camera crews in said spots but my boss is pretty good at her job and smoothed things over with the broadcasters.
I got to stand at the end of the track and talk to a security guy the whole time. We're friends now haha. He helped me get 7 pins today. He works at Lake Placid Bobsled events so he had a bunch of Lake Placid pins. When a coach would hesitate to give me a pin then he would chime in and give them one of his pins so I could get one. It was awesome teamwork. I got a Team USA and 2 Aussie pins, which were the most exciting and ones I've really wanted! Also if he saw a camera person in a place they weren't suppose to be he would let me know so I could take care of them. And he would point out famous people to me like the Prime Minister of Saxon and Prince Albert of Monaco were there today. I laughed at the Prince's joke so we're probably friends now.
This is the Prince but he defintely didn't look like this today. He was wearing a ball cap actually due to his balding head.
Oh and apparently George Clooney and the Prince are staying in our hotel because it's that awesome (thank-God I'm not paying for my accomodations). Cindy Crawford was here the other day. Some of my friends saw her when they were catching the bus. I just hope I get to see Mr. Clooney even though I know it's impossible and improbable haha.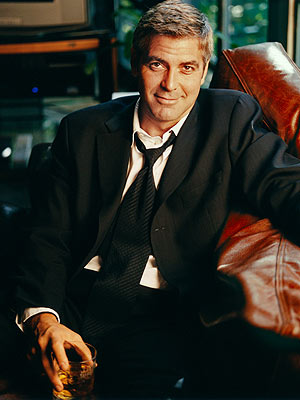 we all know what George Clooney looks like but who doesn't want to see him again, eh?
Okay well, I'm off to bed so that I'm rested for the day tomorrow in Vancouver. I have the day off but we're trying to make the 8'clock bus for Vancouver for site seeing. I think it will be fun. Ciao.